OUR SHOW FACILITY
Windermere Equestrian Center is proud to host three MHJA recognized horse shows and a Winter Schooling Series each year.  We want you to truly enjoy your visit with us by providing a safe and fun environment, organized competition schedules, and beautiful prizes.
Facilities Include:

Hard, level driveways and parking
Two all-weather show arenas with drainage
Dust control
Two all-weather schooling arenas close to show arenas
Clear Public Address system
Stabling area has four 16′ x 18′ doors providing cross ventilation
Adequate electricity for fans

Large box barrel for each hall of temporary stalls
Five out door wash racks
Beautifully decorated jumps (which are always a little different)
Air conditioned office
Multiple ringside canopies
City water — no pressure issues
We also have
Heidi's Good Eats and Sweet Treats — the best horse show food ever!!
A Fabulous Desert Table at each show!!!! –It's yummy beyond belief and prepared by Heidi!
AND! Plenty of nearby activities, shopping & restaurants for those you drag along who don't participate in the horse show thing!
Winter 2017 School Series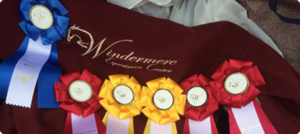 This 5-show series is a great opportunity for newer students to experience the fun of a horse show, or to keep your horse ready for the upcoming show season for those competing on the MHJA circuit. Don't let the winter weather deter you- all of our buildings are heated!
Each show will have Championships and Reserve Championships in the following divisions: 2′ Hunter, 2'3 Hunter, 2'6 Hunter, 2'9 Hunter, 3′ Hunter, Jumper, Cross-Pole Hunter, and Pole Pile Hunter. Individual show points will accumulate towards an end of series overall Championship for each division. Awards will be presented at an end-of-series banquet to the Series Champions, Reserve Champions, 3rd and 4th place riders in each division.
The Trainer(s) (counting only their top 4 rides each show) accumulating the most points in Hunters, Jumpers, and Equitation will each receive a $500 cash prize. The trainer's name MUST be listed on the entry form at the time of the show for that rider's points to count.
The Top Equitation Rider for the series will receive a $250 cash prize. Points will count for one division per show only, on the flat and over fences. In the event of a tie, over fences points will break the tie
January 15, 2017
February 12, 2017
March 5, 2017
April 2, 2017
May 14, 2017